Chimney Inspection NJ. With an annual chimney inspection in NJ — and possible sweeping — you can improve fireplace and heating flue performance, and snuff out chimney fire and carbon monoxide concerns. Chimney Inspector will confirm if the chimney liner has the ability to contain the products of combustion (i.e., heat, moisture, creosote, and flue gases)
The byproduct of enjoying a crackling flame is creosote buildup (the major cause of chimney fires) and soot, which can restrict air flow and damage the fireplace chimney. The chimney for the heating flue, gas or oil, can become blocked by a bird's nest or other debris. Furthermore both Fireplace and Heating Flue liners can be damaged to the point that they can be very dangeros.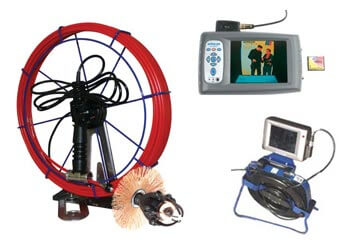 What does a chimney inspection cover?
An annual chimney inspection looks for buildup and blockages, followed by sweeping to remove problems inhibiting performance.
A level-one chimney inspection includes a visual check of the fireplace and chimney without any special equipment or climbing up on the roof.The inspector comes to your house with a flashlight; looks for damage, obstructions, creosote buildup, and soot; and tells you if the chimney requires sweeping and/or repair
A level-two chimney inspection is vital if you've experienced an earthquake or a dramatic weather event, like a tornado or hurricane; if you've made a major change to your fireplace or heating system; or bought a house.
This includes a level-one chimney inspection, plus the inspector's time to visit the roof, attic, and crawl space in search of disrepair as well as the use of video scanning and other special tools. It concludes with information on what repair is needed.
A level-three chimney inspection is considered "destructive and intrusive" and can resemble a demolition job. It may involve tearing down and rebuilding walls and your chimney.
CSIA Presents: Chimney and Fireplace Sweeping
Inspection for New Home Buyers in NJ
According to U.S. Consumer Product Safety Commission (USCPSC) (http://www.cpsc.gov/library/fire07.pdf), there are 26000 residential fires and 20 deaths per year related to chimneys. In addition, there are $6.4 Billion in residential structure fire property losses per year.
It is imperative that prior to moving to their new home, general buying public insures that their chimneys are SAFE. Home inspectors (according to American Society of Home Inspectors – ASHI) are NOT required to inspect interior flues of chimneys. Home inspectors disclaim the internal elements of the chimney for the simple fact that it is inaccessible and cannot be viewed during a routine VISUAL HOME INSPECTION. Since they cannot see it, it falls outside the scope of their inspection.
According to National Fire Protection Association (NFPA), Level 2 (camera inspection) is required "upon sale or transfer of property".
1 Hour Chimney is equipped with the most sophisticated color video camera system to check the condition of your chimney. This hi-tech system gives us the ability to inspect the interior elements of the flue and see things inaccessible to the naked eye. We offer two kinds of inspections for Home Buyers:
Level 1 Inspection (Basic Inspection) and Level 2 Inspection (Camera Inspection)
For details of Level 1 and Level 2 Inspections, click on the links in "Inspections for Homebuyers" on menu (left)
According to NFPA (National Fire Protection Association) Level 1 Inspection shall be utilized when verification of the chimney or flue for continued service, under the same conditions and with the same or similar appliance or appliances, is needed.
1 Hour Chimney will evaluate the condition of the flue and connections to the flue and give a proposal of what the chimney needs if anything before the closing takes place.
This inspection takes about 15-20 minutes.
According to NFPA (National Fire Protection Association) Level 2 Inspection is indicated when verification of the suitability of the chimney for new or changed conditions of service is needed or when Level 1 inspection is not sufficient to determine the serviceability of the chimney.
Level 2 Inspection shall be conducted under following conditions:
1. Upon addition or removal of one or more connected appliance.
2. Upon sale or transfer of the property
3. After a building or chimney fire
1 Hour Chimney will evaluate (using the sophisticated Wohler Chimney Camera) the condition of the flue and connections to the flue and give a detailed report with pictures of what the chimney needs if anything before the closing takes place.
This inspection takes about 45-60 minutes.